Announcements
Media Coverage of New GAAIN Study
A study published in JAMA Neurology used GAAIN data to reexamine the link between age, sex, and Alzheimer's disease risk. Click here to see the buzz this paper is generating and read more in the following publications:

GAAIN at AAIC 2017
GAAIN was at the 2017 Alzheimer's Association International Conference this July in London, England, where more than 5,600 researchers, clinicians, and members of the care community convened for a global forum aimed at advancing dementia science.
Thank you for visiting GAAIN's booth and for trying our new Interrogator interface! Stay tuned to our website for the official release of the tool. If you have additional questions or wish to connect with a GAAIN team member, please email us at info@gaain.org.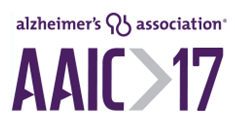 GAAIN featured in AlzForum
"We can use GAAIN to understand the entire landscape of Alzheimer's disease research and identify places where additional investigation needs to be undertaken. That will be instrumental in advancing our knowledge faster. This is the wave of the future," Dr. Arthur Toga (GAAIN's Principal Investigator) said. Read the article here.