Announcements
GAAIN SYSTEM TOOLS TUTORIAL SERIES AND TRAINING
Need assistance with our tools?
Tutorials are available for the GAAIN system tools on the GAAIN YouTube channel https://www.youtube.com/channel/UC-gf-CbgR0GhKnfx-9_Gx5A to help users navigate the Data Landing Page, Scoreboard, Cohort Scout, and New Interrogator.
Request a training session by emailing info@gaain.org with a few dates and times (note, we are in the Pacific time zone) and we will arrange a web-ex training session.
GEENA-Q Grant
The Alzheimer's Association has released a new GAAIN-related program supporting meta analyses called GEENA-Q.
GAAIN Exploration to Evaluate Novel Alzheimer's Queries (GEENA-Q) will stimulate researchers to interrogate the federated GAAIN network for new discoveries in Alzheimer's research. PDF description can be found here.
For those invited, full applications must be received by May 11, 2018 at 5:00 P.M. EASTERN STANDARD TIME.
GAAIN is offering training sessions in support of this program, email info@gaain.org with a few dates and times that work for you (note, we are in the Pacific time zone) and we will arrange a web-ex training session.
Media Coverage of New GAAIN Study
A study published in JAMA Neurology used GAAIN data to reexamine the link between age, sex, and Alzheimer's disease risk. Click here to see the buzz this paper is generating and read more in the following publications:

GAAIN at AAIC 2017
GAAIN was at the 2017 Alzheimer's Association International Conference this July in London, England, where more than 5,600 researchers, clinicians, and members of the care community convened for a global forum aimed at advancing dementia science.
Thank you for visiting GAAIN's booth and for trying our new Interrogator interface! Stay tuned to our website for the official release of the tool. If you have additional questions or wish to connect with a GAAIN team member, please email us at info@gaain.org.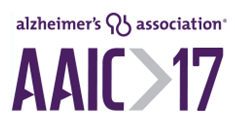 GAAIN featured in AlzForum
"We can use GAAIN to understand the entire landscape of Alzheimer's disease research and identify places where additional investigation needs to be undertaken. That will be instrumental in advancing our knowledge faster. This is the wave of the future," Dr. Arthur Toga (GAAIN's Principal Investigator) said. Read the article here.